It's rare in the tech community that any device, especially a smartphone will be even talked about 2 years after its release. The pace of release of new devices is so fast that mainstream tech bloggers who need to drive website traffic by discussing the latest and greatest, have moved on and forgotten. The idea of people using a smartphone that is more than a year old may be outside of the perception of those who change their devices weekly for reviewing, but I think it's worth seeing how some of these devices fare after more than the usual "I've had this phone for the last week, here are my opinions" you hear at the beginning of so many YouTube reviews.
For reference, my smartphone pedigree has been Samsung Galaxy S --> Sony Xperia Z1 --> LG G4. I also own a Nexus 5x that I use as a backup phone. I intend to go through each of these devices eventually, so I'll update this post with links as I do that. All of my devices have been bought with my own money - though if companies want to send me stuff, hit me up!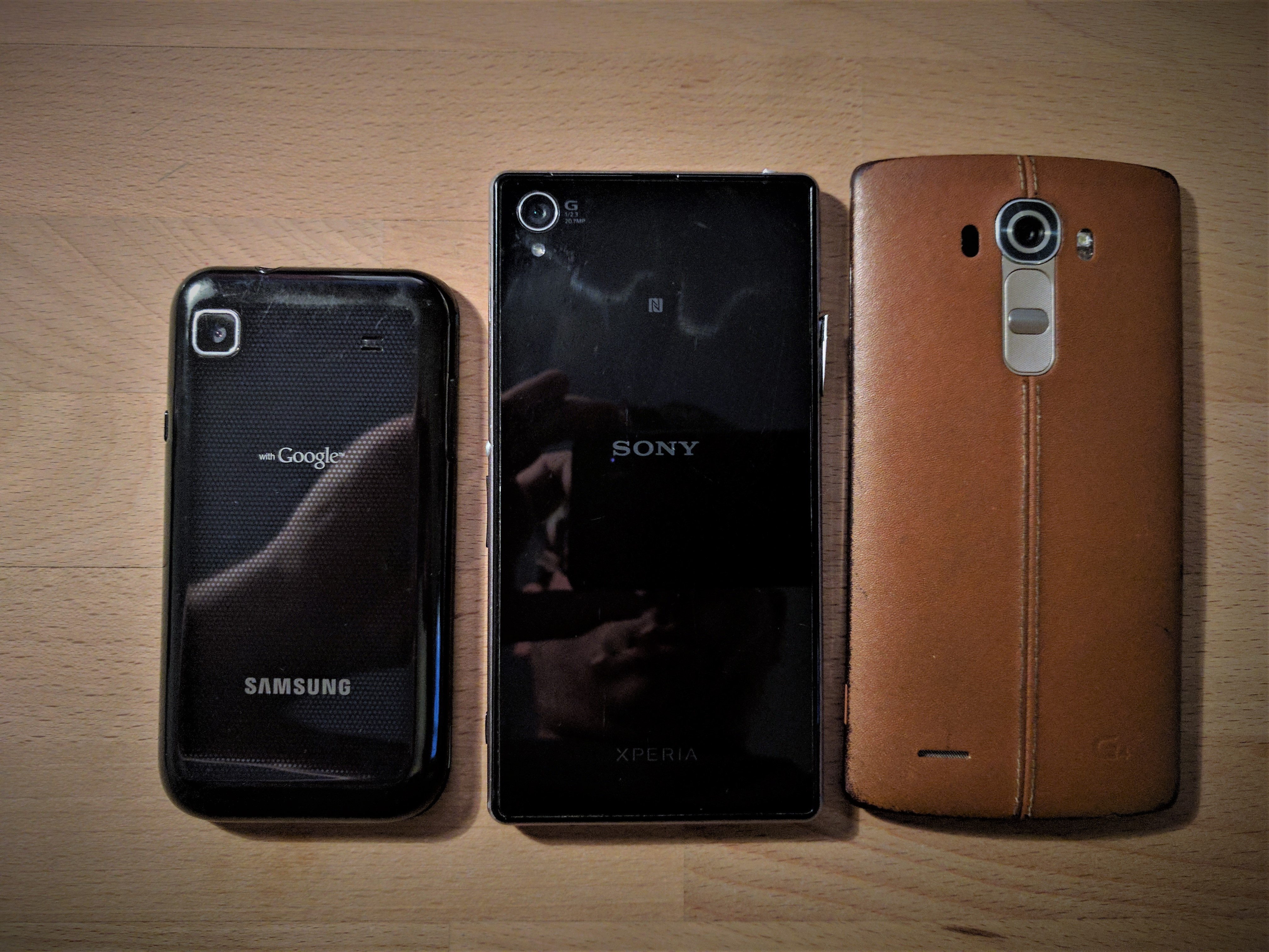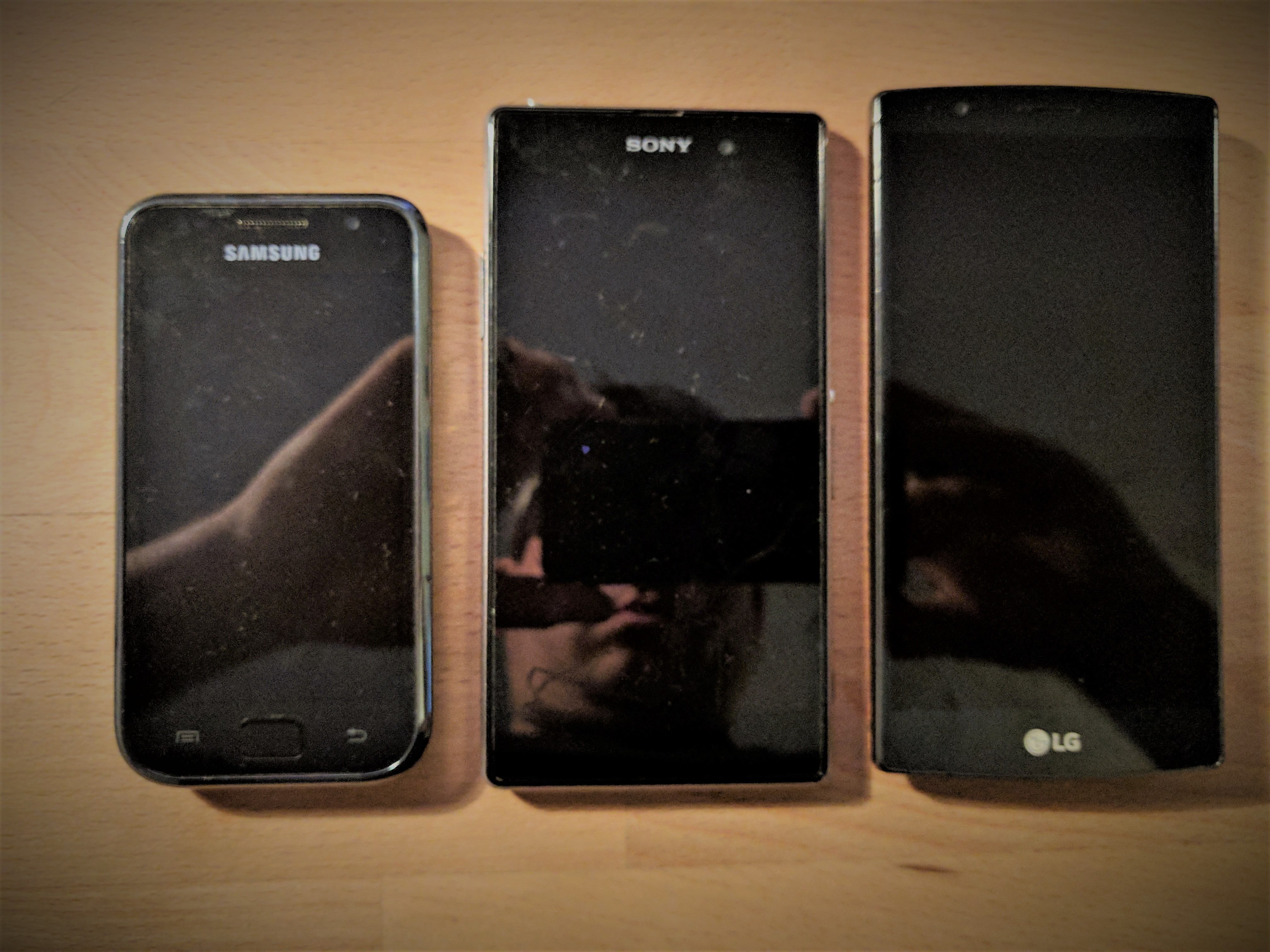 My smartphone pedigree: Samsung Galaxy S, Sony Xperia Z1, LG G4. LG Nexus 5x missing as it was used to take these photos!
For expensive or important purchases, I spend weeks antagonising over it. I think it took me 2 months to decide which laptop to buy (Dell XPS 15 9530 in 2014) and when the LG G4 was announced and the first reviews were published I must have watched or read them all. It ticked most of the boxes I had in my head, missing only an AMOLED display for those true and deep blacks characteristic of that technology. I remember asking a reviewer with the device who said that the backlighting was very dim at the lowest so I was content with the compromise, even though I'd lose the battery savings. I hate nothing more than to have buyers remorse and for the most part, I think I chose well with the G4 despite LG giving me many reasons to doubt that link to bootloop.
Then the honeymoon phase. All new devices are treated like a new born baby for a few months before the shine tarnishes a little.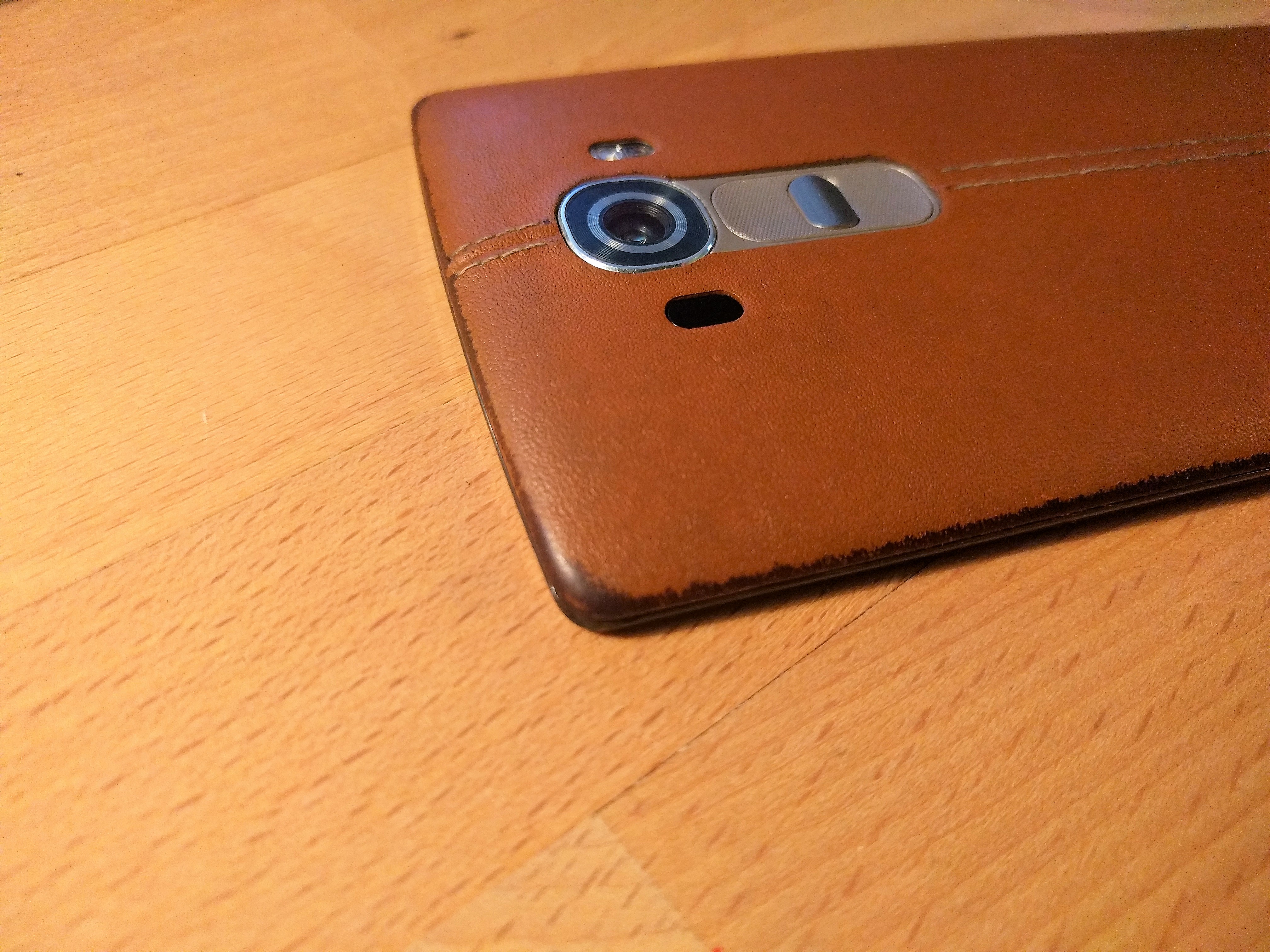 Only used the leather cover for about 8 months but the wear on it from daily use is still very clear.
The leather back scratches or wears away and the phone is no longer so precious and more seen as a tool. I have dropped it a few times and the back cover doesn't fit as tightly as it once did. There are no scratches on the (Gorilla Glass 3) beautiful screen, nor on the camera lens. Hardware-wise I think everything works as it did when new. Because of the wear and tear to the leather back, I switched to the included silver plastic back. Though after taking the photos for this post, I'm going to give the leather another shot. It deserves it - a premium material for a premium phone.
"Hand feel" aka ergonomics
The device feels spectacular in the hand. Having come from an Xperia Z1 just before, the G4 was far less "blocky" with a nice curve that sits well in the hand: no corners digging into your palm. The back is convex making the whole device look and feel far thinner than it actually is. It sits in your hand very comfortably, which is only complemented by the leather case - warm and soft rather than cold aluminium and glass or cheap plastic. Though my device came with a spare metallic plastic back which I used when the leather got a bit worn, even that was fairly premium feeling and definitely doesn't conjour the sensation of cheap plastic. There's also a subtle banana like curve to the display which is hard to notice until you move to another device and sometimes your fingers don't quite hit the screen as solidly. It's never been clear to me whether the curved glass actually provides any usability benefit but I think it helps the phone feel less like a 5.5" slab in your pocket. I think it's a shame that almost all devices released in 2016-7 are flat slabs of glass and metal - not that leather is a great material choice for a phone but having variety in the shapes may prove more ergonomic for some. Device manufacturers don't seem as daring with their form-factors as LG was back in 2013 with the Flex phones...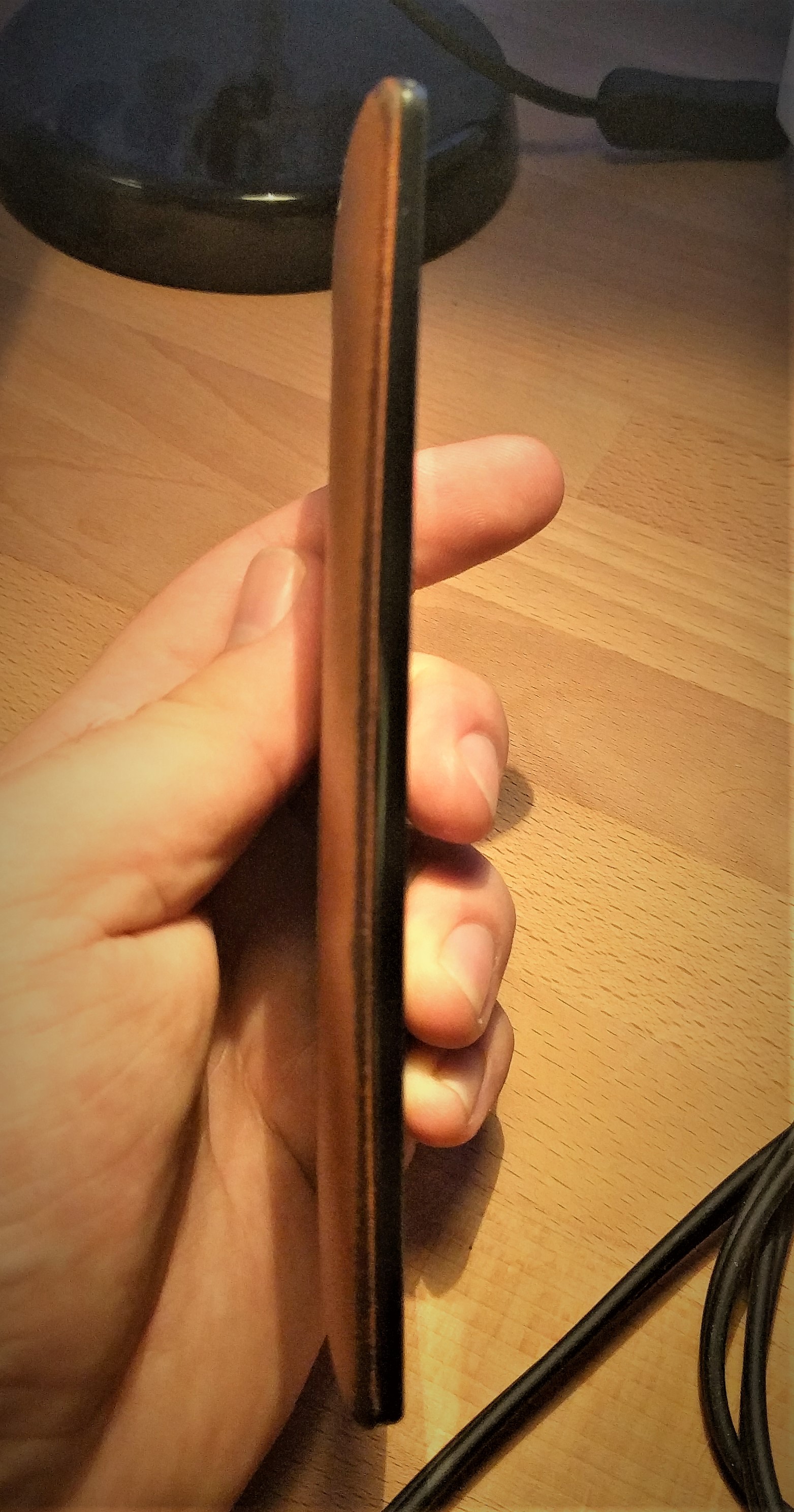 See the subtle curve of the screen, and how the back can fit gently into your palm?  Yeah, haven't seen that on other phones in a couple of years.
The Display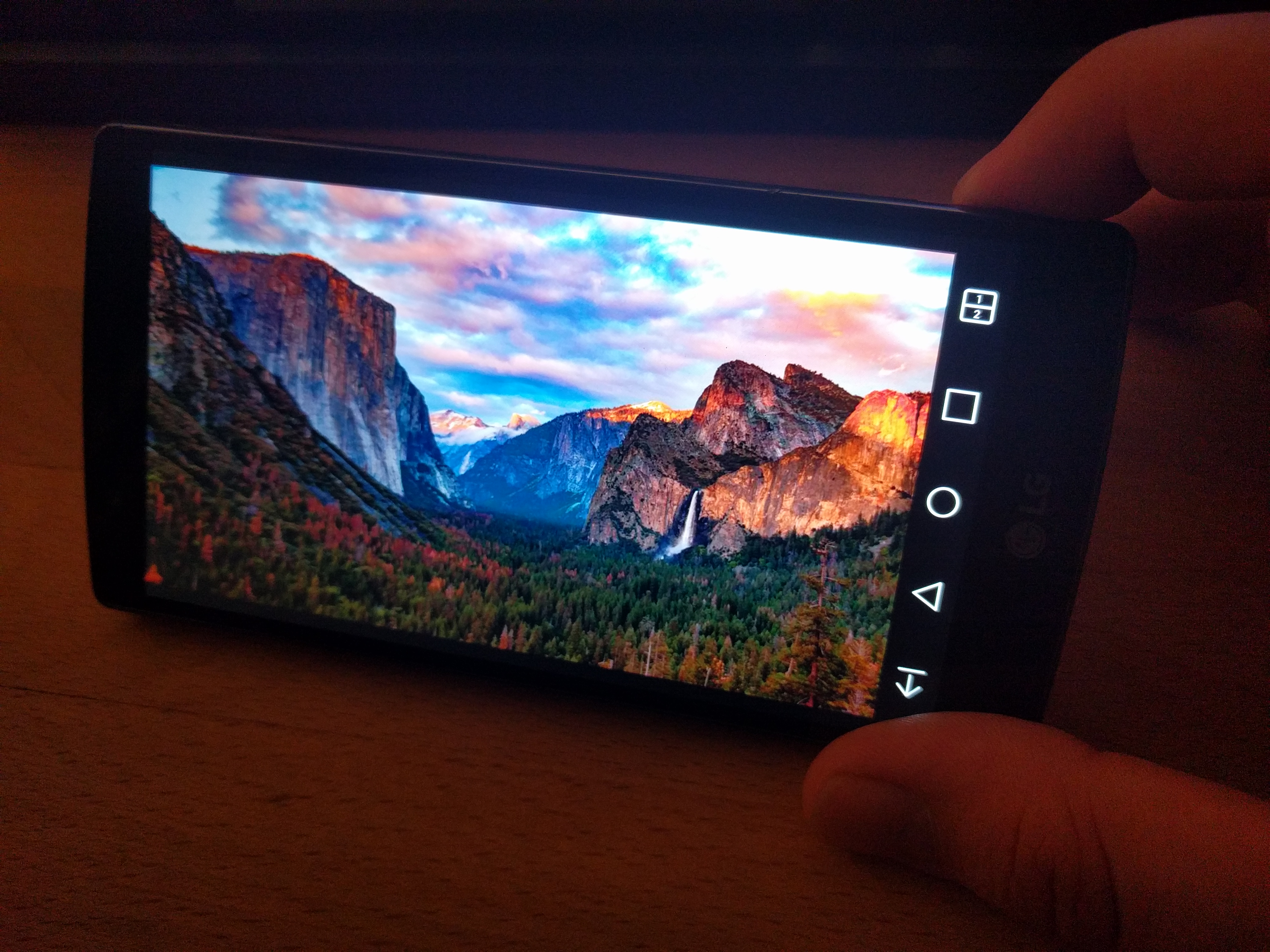 It's hard to show off a display when it goes through another camera, and is displayed on your screen... Trust me, I've never seen a single pixel, and the colours are great!
The Software
Happily, LG put a fairly light touch on the G4 compared to other OEMs. Arguably though there were few improvements and it would have best been left alone. The colour scheme is not changeable (a cyan on black like the Holo colours of the Android Honeycomb (3.0) days). When I started playing with a true nexus device, I began to long for the options available that LG had removed from stock Android, including lifting to wake the screen. Even though the Nexus 5x has 1 Gb less ram than the G4, it still runs much faster and is far more responsive. This may be because the 5x only has 1080p display. I feel joy when using the 5x because it can keep up with how I use it without stuttering and the G4 occasionally slows down. To reduce frustration with the G4, I try to reboot the phone every 2-3 days. That seems to reduce stuttering with Bluetooth headphones too.
The Camera
The stand-out feature of the G4 at release was the camera. The photos it takes still extract "ooh"s and "ahh"s when I show some shots. It is a 16mp 3-axis hardware stabilised sensor with a f/1.8 aperture allowing for sharp, steady shots taken even in low-light. To aid this, I believe the G4 came with one of the first smartphone infra-red laser auto-focus modules which is lightning fast at focusing on the object you want if it doesn't already auto-focus on it. The white balance sensor next to the flash aids in the colour accuracy of shots is probably of more of a benefit to people who shoot in RAW and manuals modes or do intense post editing of their photos. I'm pretty happy with shots first time in auto so I don't feel the need.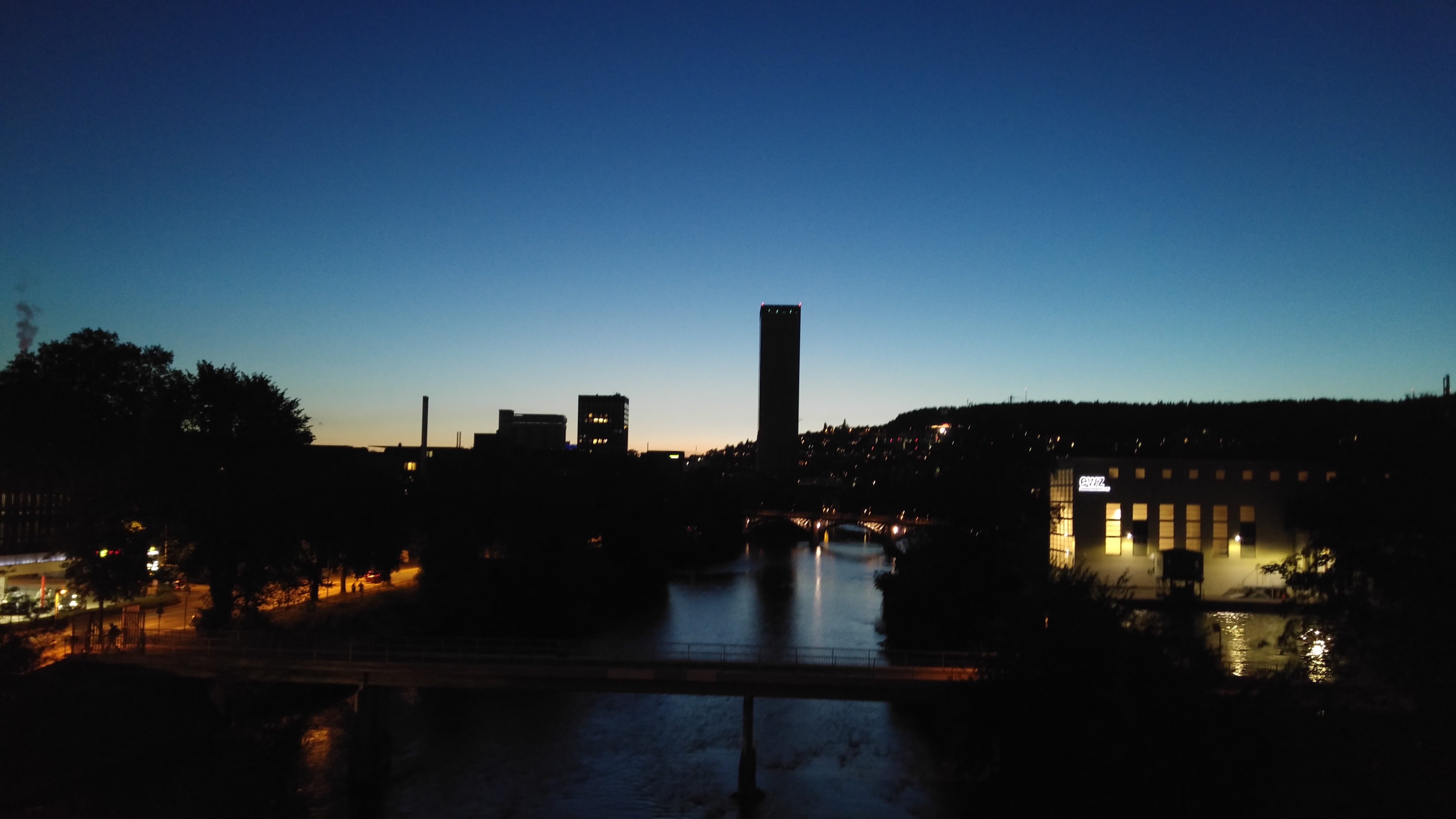 A quick nighttime shot of the Limmat River in Zurich at dusk. Used "auto" settings
Manual mode
I did play around with the manual mode a little last weekend. I was in a small village up the mountainside near Flums and could see so many stars on this clear night. I had the idea to play with the exposure time, which goes up to 30 seconds. I feel I was able to get a passable star photo considering the number of beers consumed and that I was only steadying the phone with my hand. LG claimed that this was the first phone that could replace a DSLR or other professional equipment: I'm not entirely sold on that but if it's the only camera you have on you, it's not the end of the world. Since having this phone I've not used my old Panasonic TZ7 point and shoot, despite it having a 12x optical zoom: it's just too bulky to carry that when I can use my phone from my pocket.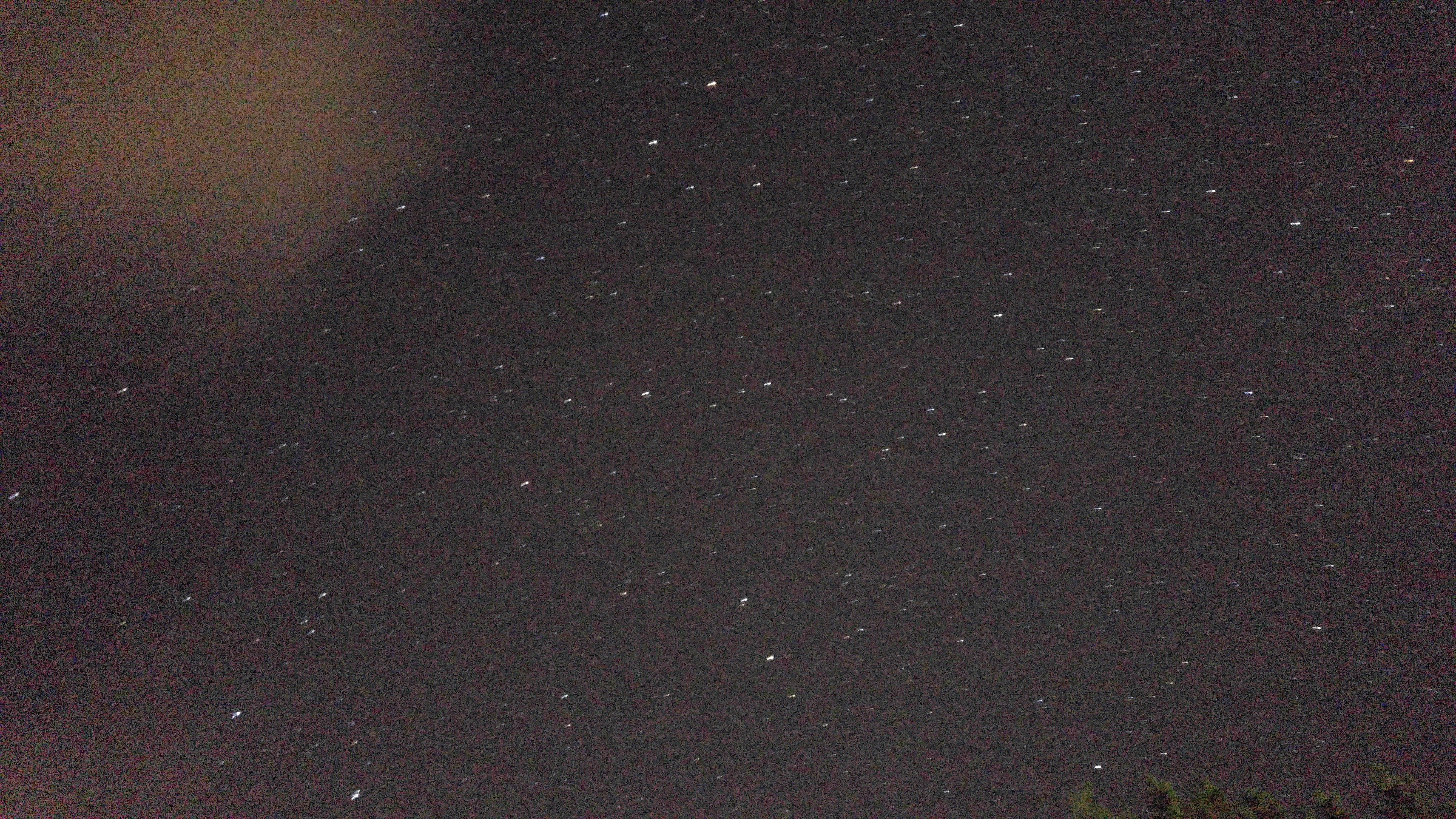 a passable star shot with shaky hands and alcohol. 30s exposure.
Battery life
The battery is definitely not as good as it once was. I remember getting 3-4 hours of screen on time when the phone was brand new. Now it struggles to get over 1, meaning that when I'm not at home or work and close to a wall outlet, I'm carrying a battery pack to reduce range anxiety. Sometimes I find myself charging the phone twice during the day and once again overnight. This is with moderate use, usually between experiments where a 5 minute centrifuging of my cells is enough to check Reddit but not do anything actually productive. I've bought official and unofficial replacement batteries (an option not available on most new devices in 2017) but that only has a limited increase in daily use. In truth, I also have more apps and use my phone differently to when I purchased it. There's now a Huawei Watch always connected, frequently along with Bluetooth headphones. There are more apps running in the background, and all of this combined probably accounts for a lot of the reduced battery life I see.
Fairytale phone?
However, there have also been major hardware issues. The mainboard has been replaced twice due to the infamous LG bootloop problem that has repeatedly affected several of their devices and mine might go again any day. LG is also incredibly slow at releasing updates and quick to abandon devices. For instance, the latest security patch for my phone is from August 2016. It's also on Marshmallow (Android 6.0) rather than Nougat (7.0) which it took months to get after Google released it. The update also reduced battery life for me, despite claiming it would increase it. From what I remember there were minimal other changes during the update, and the device may have been better staying on the version it came with, Lollipop 5.0. Meanwhile, Apple still releases updates for iPhone 5S which is 3 years old.
Replacement?
Because of the imminent death either from old age or a hardware issue that LG is up for a class-action lawsuit I keep on top of new releases and try to find a device that will come close to replacing this and ideally improving on it. This is not such an easy task and there are things I definitely won't find such as the subtle curve to the display (an oft forgotten feature of LG devices - see LG Flex 2) nor removable battery.
I'm going to write another post soon about the possible upcoming devices of 2017-8 that may replace my beloved G4. A lot of future phones currently have a lot of leaks rendered (Pixel 2, Note 8) and I'll be watching them closely...
Conclusion:
The LG G4 is a great phone that I would buy again back in 2015. Its specs still rival many newer devices even if it's starting to show its age. I would love to put its camera against 2017 flagships to compare - I bet it's fairly favourable.
Follow up:
It's now Q1 2019 and for over a year my G4 has become the daily driver of a less technically inclined former housemate. Last I heard, he's getting great battery life out if as his usage is far lighter. It'll probably live for another couple years!